Tuesday, May 8, 2012
Thought this was a good, motivating thought!!!
Memory can be used for good or for evil. If you use your past as a source of learning, it's worth remembering. If, however, all you do is mull over your mistakes and punish yourself for your failures, it's a waste of time. Rehashing failure can paralyze you in mortal fear of making another mistake. Which, of course, just makes this worse and practically guarantees future letdowns. The key to goal achievement is to pay more attention to the future than to the past. Have you ever noticed that the best athletes also have the shortest and most selective memories? Instead of dwelling on a missed shot or a flawed dive, they concentrate on making corrections and getting the next one right. It's as if the failed attempt never happened. It's forgotten and they don't fear trying again. If you mess up, even in an epic, life-altering way, work hard to leave it behind and concentrate on the possibilities yet to come. Tomorrow is much brighter when it's not smeared with a fixation on yesterday.
http://www.sparkpeople.com/resource/quotes_translation.asp?id=327
Monday, May 7, 2012

As I complained about the price of "healthy" food to a friend, she said, "You can pay for it now, or pay for it later." Hmmm I guess she is right. Taking the unwanted weight off, is alot harder and time consuming then putting it on. So........Here are a few ways that can help cut cost and help stay on a
budget.
Here are 8 tips for eating better while on a tight budget.
1. Plan.
Plan your meals BEFORE you head to the store. Make a
2. Get the best price.
Look for sales or coupons, BUT ask yourself if it is an
item that you will actually use. Don't fall into the trap of
buying an item just because it was a good deal.
3. Buy in bulk.
It is almost always cheaper to buy foods in bulk or family
4. Buy in season.
Buying fruits and vegetables that are in season can lower
the cost and add to the freshness!
5. Convenience costs.
Convenience foods like pre-cut fruits and vegetables often
cost more. Spend a few minutes when you get home to
wash and cut or package up your fruits and vegetables.
You will get it done quickly and save some money in the process.
6. Look for items that are easy on your wallet.
Certain foods typically cost less all year long. Try beans for
an inexpensive source of protein.
7. Cook once, eat all week.
Prepare a large batch of your favorite recipes on your
day off and freeze smaller containers to use throughout the week.
8. Get creative.
Spice up your leftovers—use them in new ways. Use
leftover chicken or vegetables and create a new stir fry or salad.
Tuesday, May 1, 2012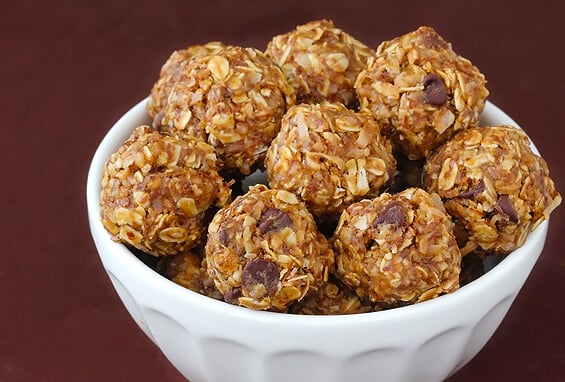 No-Bake Energy Bites Recipe
1 cup (dry) oatmeal (I used old-fashioned oats)

1 cup toasted coconut flakes

1/2 cup chocolate chips

1/2 cup peanut butter

1/2 cup ground flaxseed

1/3 cup honey

1 tsp. vanilla
Stir all ingredients together in a medium bowl until thoroughly mixed. Let chill in the refrigerator for half an hour. Once chilled, roll into balls of whatever size you would like. (Mine were about 1″ in diameter.) Store in an airtight container and keep refrigerated for up to 1 week.
Makes about 20-25 balls.
Never easier 2 ingredient pumpkin muffins, tender, moist and delicious. Hard to believe it's literally only 2 ingredients!!
1 Yellow Cake Mix (Yes, you can Use a Gluten Free Cake Mix, it WILL work!)
First, dump your cake mix into a large bowl.
Then, add the full can of pumpkin to mix.
Bake at 350F for 20-25 minutes, remove from oven, eat while warm. These also freeze well.